Article -- A Comic's Course in Stand Up
Article by Stephanie Ogrodnik, Art Attack
Reprinted from Philly.com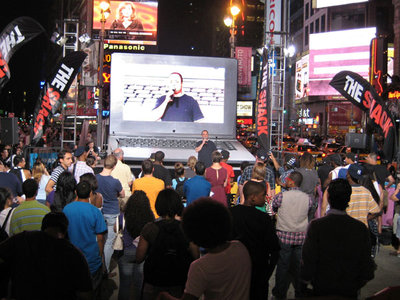 "I did stand-up comedy for 18 years," wrote Steve Martin in his book Born Standing Up: A Comic's Life.
"Ten of those years were spent learning, four years were spent refining, and four years were spent in wild success. I was seeking comic originality, and fame fell on me as a byproduct. The course was more plodding than heroic."
Of course, Steve Martin's journey came throughout the 1970s. Now, as stand up classes and seminars continue to crop up, it appears that unlike many classic comedians, many comics are beginning their road into the comedy circuit in a class, versus on the mic.
However, the unavoidable question comes to mind, which challenges nearly every creative and arts course. A professor can teach the Stanislavski method, but where does that translate into the next Kevin Spacey? In the case of the up close and personal art of stand up, can a course only facilitate those who have that comedic gift, or can someone really learn how to be funny?
"There's this bad stigma sometimes that you can't teach stand up comedy," said Brad Trackman, who opened the Philadelphia Comedy Academy five years ago. "I got to tell you, from someone like myself, to Jim Gaffigan, and a host of other people that have taken stand up classes for years just to get that foundation and that confidence before you go out there…it depends on who's teaching the class."
There is no question of Trackman's qualifications as an instructor. Performing for over twenty years, Trackman can be recognized from numerous television appearances, including Star Search, Friday Night, and Comedy Central's Heroes Of Jewish Comedy & Stand Up. Equally impressive are the growing credentials of his pupils. Not only did Trackman state that he took Mike Birbiglia under his wing early on, but two of his academy students, David Baker and Erik Rivera, both premiered on The Late Show with Jay Leno.
Trackman himself started by taking classes with Stephen Rosenfield of the American Comedy Institute, and describes his own approach as using "Stephen's core philosophy of teachings" and adding a contemporary twist. His monthly workshops are geared toward helping each student build a five-minute set, which is performed at the end of the month. Along the way, Trackman's lessons incorporate everything from proper microphone technique, to improving on individual style. He also provides one on one consultation over the phone. "I help them put together their set, and their jokes, and help them write. And then they see the way I work and then, hopefully, not only does it make their set better, but they learn what I'm doing and then it helps them in the future," said Trackman.
"You can't guarantee anybody success with their art, but what you can do is teach them fundamentals…that will escalate the process immensely," said Trackman. Still, one wonders how a stand up class can speed up development that for many was gained through years of both success and defeat—especially since nearly all comedians will bomb in front of a crowd at least once. In fact, this was the case for Trackman's first performance. "I'm going to my apartment in New York and I'm crying, I'm so dejected, and my girlfriend calls me up and goes, 'How'd it go?' And I'm like, 'I killed.'" Her promise to make it to the next performance helped to light the fire that put it all in motion. "I had one month to get better, and I did," said Trackman.
Thus said, is it better for a comic to learn as Brad Trackman or Steve Martin did, through trial and error and learning through the audience, or can a class help to bypass some of the grittier lessons, without the strain? "I have concepts that I've developed that I can tell you, when I first started stand up comedy, if someone would have taught me what I'm teaching right now, I would've loved it," said Trackman. "Inevitably, every person's going to probably learn what I'm teaching them. But it takes years and years to do it. And a lot of knocks… This is going to make it a much smoother path."
Drexel University has been helping curious students along a similar path with a rare college course called "Creating Stand Up Comedy," taught be Professor Bruce Graham. Though the local playwright may be best known for award-winning plays, like Something Intangible, Bruce Graham took the stage for stand up long before the Barrymore Awards. As a kid, Graham became obsessed with analyzing comedy bits from entertainers like the Marx Brothers, using a cassette tape recorder to study their timing, learning what jokes got the best laughs and why. By sixteen he started out at open mic nights, but it wasn't until Indiana University in the 1970s, where he teamed up with Billy Elmer and Mark Bernardo, that he began performing throughout the country at nightclubs and college venues for several years.
"There's nothing more subjective than comedy," said Graham. Much like Trackman's course, students develop their own five-minute bits, which they perform in front of a live audience as their final. As Graham describes stand up to be, an "inexact science," he said it's important to keep an open mind and establish an open environment, through positive feedback and allowing students, within reason, to build their sets uncensored. "It's a teaching tool that the mind is much more receptive when it feels that it's not going to be attacked," said Graham. "Especially in something as personal as comedy or playwriting, you're looking inside yourself, and you have to be comfortable."
Alongside exposing students to a variety of styles of successful comedians, Graham said that one of the main components of the class is defining one's own persona, from attitude to attire. "What I want to do is the whole Socrates know thyself thing. To do comedy you have to know who you are, or who you project to be," said Graham. For the first three or four weeks, he provides writing topics, like about one's family, as prompts to help students get started on their material and to get an idea of their voice. After weeks of refining their act and improving their delivery, each student comes out with his or her own distinctive bit. Sometimes it even reflects a range as broad as the industry itself— from Steven Wright's deadpan style to Lewis Black's cynicism.
Today, it has become more common for comics to divide their experience between the stage and the classroom. Attending the Philadelphia Comedy Academy, or any course, can concoct the next George Carlin. However, it can help to build the confidence and drive necessary for stand up comedy, and other life challenges. "Most of my students are business majors and stuff," said Graham. "They want to be able to get up in front of a meeting, because face it, we love it when people make us laugh. We're more receptive, we're listening," said Graham. Trackman too has used his skill to aid in public speaking and teaches stand up at University of Pennsylvania's Wharton School of Business.
Some might describe this technological age as one of attention deficit inducing flow of information, from ads, to articles, to unending streams of content. Concerts and performances may promise fire, flashing lights, and technology improves the sound, the sight, and the sensation of experience. However, a solid comedian, with little more than a microphone and some funny stories, can still draw our attention. It is a talent that hundreds will tackle but a handful may master, unless, perhaps, a pro can guide the way.